We bring you the best possible solutions for your Business
.
AirVini air-ends featur
e
.
♦ AirVini air-ends feature one of the most advanced rotor profile design available. The manufacturing process is fully integrated, thanks to ultra modern machine tools and sophisticated operating instrumentation that provide the highest quality standard.
♦ A solid modeling CAD system ensures the ideal components arrangement.
♦ The production process of the rotors goes through 4 different machining steps that make it possible to achieve superior machining accuracy and consistent performance. This level of precision means any male rotor can be perfectly matched with any female counterpart.
♦ All air-ends are individually tested two times: after their manufacture and a further time following assembly on the completed compressor.
ETIV electronic controllers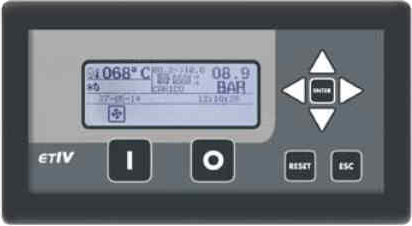 Advanced controllers
Controller with multi-function backlight LCD graphic display, the menu is drop down type. In the main screen are displayed:
– Working pressure (offload/load pressure);
– Oil temperature;
– Compressor status (stand-by, offload, load);
– Fan status (off/on);
– Date and time;
– Hours remaining before maintenance;
– Inverter use percentage.